[ad_1]
In the thick of the COVID-19 pandemic, so many parts of our daily lives have changed. Some of us have started working from home. Others have lost jobs. Inescapably, we have all had to completely change the way that we communicate with friends, family, and our peers. The pandemic has brought up many new worries for people and some of that may be due to social anxiety. In this blog, I will describe common causes of social anxiety. By exploring the landscape of social anxiety in our new virtual world, I will also suggest some skills that can help you cope. Using social anxiety coping techniques can help you to feel less isolated and more satisfied with your relationships at a time when you may really need them.
What is social anxiety? 
Social anxiety can occur in any situation where you are interacting with another person. It could arise in situations with close friends, strangers, coworkers, teachers, or peers. Social anxiety is the result of an overstated or irrational fear of regular social interactions. This may look like a fear of judgement, excessive worry about being embarrassed or humiliated, or a fear of offending someone.
Read more about the symptoms and causes of social anxiety.
Social anxiety often feels frightening and overwhelming. This makes it hard to stay mindful or notice when social anxiety is getting the best of you. In order to get better at managing social anxiety, the most powerful tool is noticing when you are experiencing it. Recognizing the physical sensations of social anxiety can be a great first step toward conquering it. These physical sensations are often felt most intensely in the head or stomach. It may feel like a headache, stomachache, dizziness, rapid heartbeat, dry mouth, blushing, dizziness, or shortness of breath.
Other than causing distress, social anxiety can have a long term negative impact on your life. It can lead to feelings of loneliness and low self esteem. It can also make it harder for you to succeed in other areas, like work or school.
Read more about overcoming shyness.
How does social anxiety manifest itself in our new virtual lives? 
Social anxiety is not the same for everyone. Some people may love the transition to online work or school. Others, however, may struggle to make this big shift. Many of us transitioned from working in an office setting to doing all of our work through email, zoom meetings, and phone calls. In doing so, our sense of connection with our bosses, colleagues, friends, and family may feel different, awkward, and anxiety-inducing.
Communicating virtually can also add a layer of distortion between the content of what is said and the intended meaning. Colleagues with differing email styles may come across as terse. Online communication creates the potential for misunderstandings that could have been avoided in a face-to-face meeting, where there are often clearer context cues. Whether you notice it or not, lacking nonverbal cues can leave room for anxieties to take root and fester. (e.g. What did my boss really mean when they said xyz?)
Video calls and zoom conferences can also bring up new anxieties that many of us haven't yet built the skills to effectively cope with. Internet lags from video conferencing can often make conversations feel awkward or jolty. They can also lack the in-person chemistry and flow that many of us need to feel connected and comfortable. Zoom presentations have changed how we interact in groups as well. For some people, doing a presentation with 12 people on-screen staring back at you may feel more nerve-wracking than standing in front of a real room full of people.
Watch: What is your anxiety telling you?
Using mindfulness as a social anxiety coping technique
You may now be asking yourself, "How do I cope with social anxiety?" There are many ways that we can learn to understand and decrease our experience of anxiety and distress.
When experiencing anxiety, the first step is noticing the anxiety. Practicing certain mindfulness exercises can be an effective way to notice what our anxiety is telling us. There are many wonderful mindfulness and grounding exercises that can help us get in touch with our anxiety.
In general, mindfulness helps us shift our focus from the anxiety-inducing external inputs (for example, the harsh-toned email from your boss), to our sense of internal self and calm. Although shifting to a virtual workspace/world may make our experience of social interaction more stressful, we are also gifted with new ways to deal with social anxiety that may not have been available in an in-person setting.
In our new virtual world, we have so much more control over our physical space and environment. As such, we have the opportunity to leverage that in our favor, especially to help deal with things like anxiety. As a mindfulness exercise, you could spend some time setting up a "safe space." This could be a nook of your apartment with comfortable seating, or a quiet space in your home. It could also look like a collection of photos or trinkets that you keep on your desk to focus on when you're feeling overwhelmed. Placing mindfulness reminders in your work-from-home space as a queue to pull yourself back into the moment is an excellent way to practice mindfulness in an intentional, deliberate way.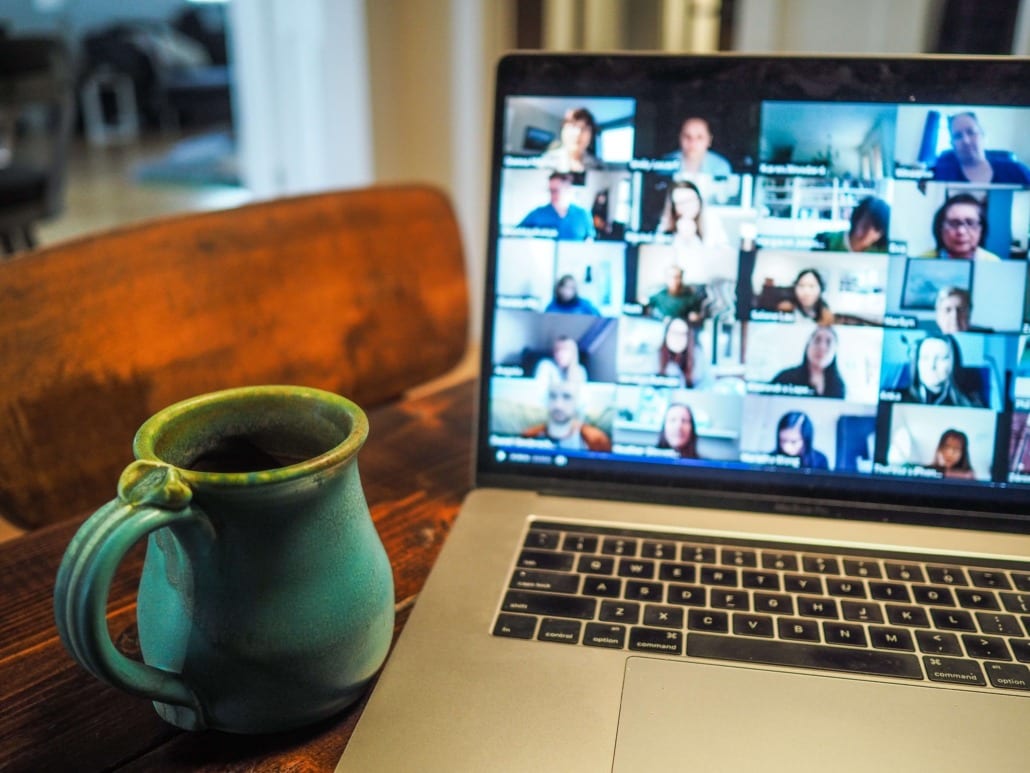 Finding support and reframing thoughts around social anxiety
Some of us also may be feeling social anxiety because our usual support systems were taken away when we moved into the virtual world. Maybe you used to have a favorite coworker or friend that you would casually debrief with during the day. Finding new ways to connect with your social support system may be imperative. This might look like scheduling a quick facetime debrief after presentations or meetings. This also might look like a quick coffee date on zoom at the end of every week. Connecting with peers and undoing feelings of aloneness can be the most powerful tool in combating anxieties associated with our "new normal."
If these suggestions don't feel like enough, or if you're looking for a different way to understand and cope with social anxiety, learning some techniques from Cognitive Behavioral Therapy (CBT) may be helpful for you. These types of exercises can be done alone or with a therapist, and they have been researched and proven effective. Cognitive restructuring is a method which works to test our internal thoughts and beliefs with the reality of the outside world. Using CBT techniques, you can work to view distorted, anxious thoughts, from an objective perspective and learn to understand your thoughts in a way that is productive and helpful, rather than anxiety-inducing and restrictive.
What to remember
In conclusion, social anxiety is a common problem that many people have experienced. This anxiety may be more intense as a result of our shift from in-person connection to a new and uncharted virtual territory. As we continue to change our lifestyles as quarantine restrictions shift, it is important to build our knowledge and create healthy habits to adapt to new situations, rather than being bogged down by anxieties. Creating a safe space at home, practicing mindfulness, connecting with supports, and learning new skills like CBT can help you manage social anxiety successfully.